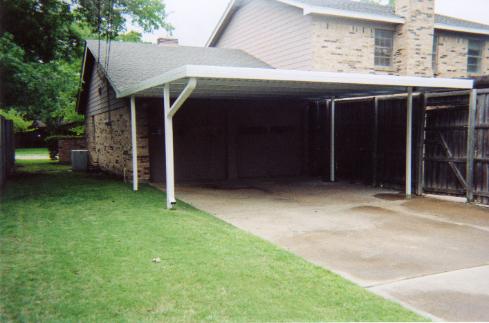 YOUR HOME WILL BE ONE OF THE BIGGEST, MOST IMPORTANT INVESTMENTS DURING YOUR LIFETIME.  HAVING A STEEL PATIO COVER OR CARPORT INSTALLED WILL ENABLE YOU TO GET THE MOST OUT OF YOUR HOME WHILE ADDING TO YOUR INVESTMENT, GIVING YOUR HOME AESTHETIC APPEAL.  OUR CUSTOM COVERS WILL ENHANCE THE ARCHITECTURE OF ANY HOME.
IN ADDITION TO THE AESTHETIC VALUE, STEEL PATIO COVERS AND CARPORTS ARE AN EXTERMELY COST-EFFECTIVE ACCESSORY FOR ANY HOME.  THE SHADE CREATED BY A PATIO COVER CAN HELP CONTROL THE INTERIOR TEMPERATURE OF YOUR HOME BY AS MUCH AS 15 DEGREES, KEEPING YOUR ENERGY COST TO A MINIMUM.
"..A COST-EFFECTIVE ACCESSORY FOR ANY HOME."
PATIO COVERS ALSO SHIELD HARMFUL UV RAYS THAT WILL DAMAGE CARPETING, RUGS OR FURNITURE THAT WOULD NORMALLY BE IN DIRECT SUNLIGHT.
CITY WIDE WILL ALSO INSTALL CARPORTS THAT PROTECT YOUR AUTOMOBILE IN THE SAME FASHION A PATIO COVER CAN PROTECT YOUR HOME.  THE WEATHER IS A TOUGH THING TO COMPETE WITH, AND YOUR CAR OR TRUCK, ANOTHER VALUED INVESTMENT, NEEDS ALL THE PROTECTION YOU CAN GIVE.  ICE, HAIL, AND FREEZING TEMPERATURES CAN DAMAGE THE EXTERIOR OF YOUR CAR WHILE UV RAYS CAN CAUSE FADING TO THE EXTERIOR AND INTERIOR.